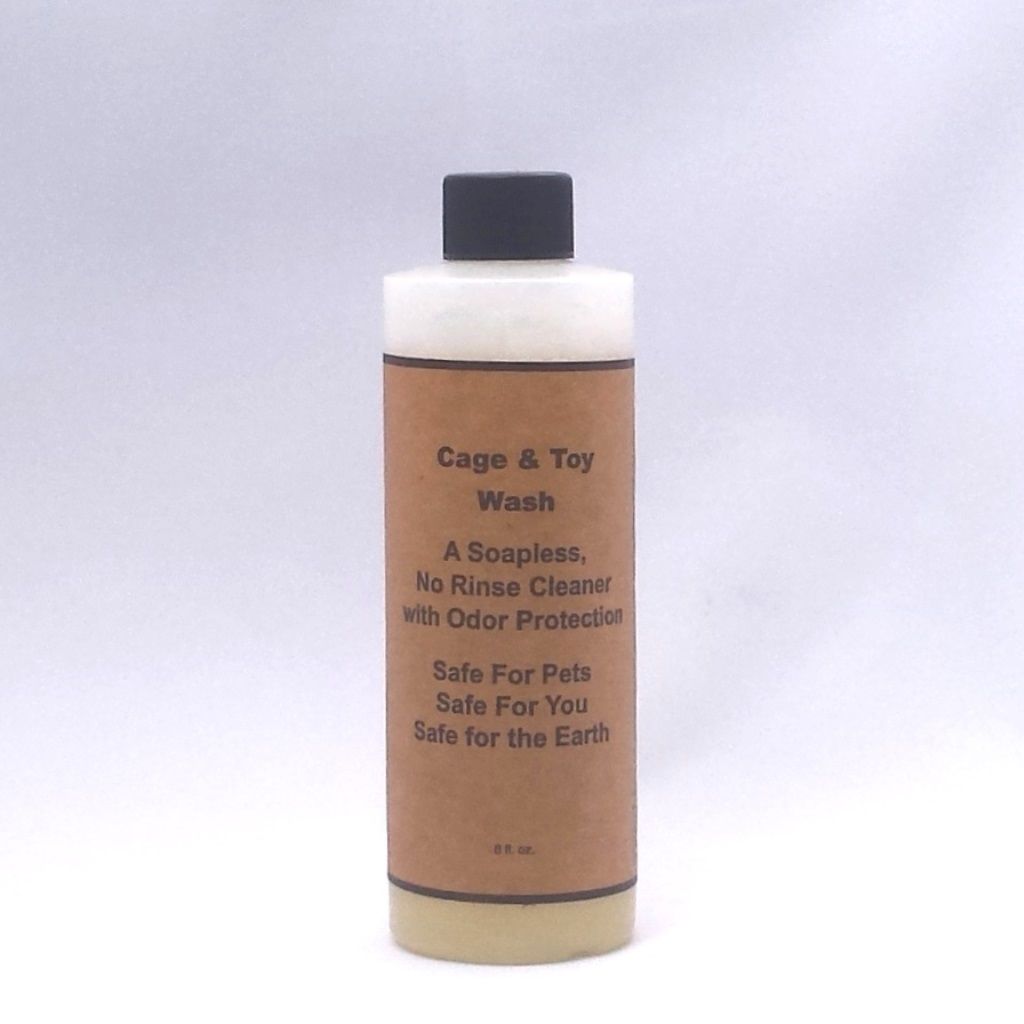 Natural Soapless, Rinseless Cleaner with Odor Protection for Cages & Floors
Product Brief:
Produced at a facility in compliance with USDA / FDA (human) requirements
100% natural ingredients in HDPE #2 plastic bottle
Cage & Toy Wash is a cleaner & odor eliminator that keeps working after clean-up to prevent odor from coming back, as happens often with "natural" enzyme cleaners
Saves time & water too, no need to rinse off. If you steam clean your cages, this product is ideal for suppressing odors between those steam cleanings
Odor Protection for the Longer Term
Originally designed for owners of birds & small animals like sugar gliders facing particularly difficult cage cleaning & 
returning odor problems
, the product is also used by
dog & cat owners to remove lingering urine smell
. Cage & Toy Wash smothers the bacterial activity that enzyme products leave behind, an especially common problem on hard surfaces like cages and many floors. For more info on this effect, see 
The Science Behind Cage & Toy Wash / Cage & Toy Shield
.
Here's a question for you: do think an odor control product is "natural" if it has warnings on the label like "KEEP OUT OF THE REACH OF CHILDREN", "GLOVES SHOULD BE WORN WHEN USING THIS PRODUCT", or "Test surfaces to be treated in a hidden area"? Seriously, if the product is really natural, why warnings?
Go check the label of the product you currently use.  What kind of "warnings" are provided on your natural odor control product?
Bird, ferret, guinea pig, rat, sugar glider & other small animal owners find Cage & Toy Wash to be incredibly convenient since there is no need to hose or shower-down the cage after cleaning; this product contains no chemicals that need to be sprayed off. Once your cage has been wiped down, the natural ingredients in Cage & Toy Wash remain active, smothering odor-causing bacteria and suppressing cage smell.
For larger pets like dogs & cats, Cage & Toy Wash can be used on crates, enclosures, bowls, toys & accessories. Plus, it's also perfect for cleanups of indoor accidents, being particularly effective in preventing bacteria from creating a stubborn, pungent smell by feeding on urine residue. Use it on hard floors, carpets, beds (pet and yours) - both for soiling that has just happened, or where urine or other odors keep coming back.

Checkout how fast & convenient it is to clean your pet bowl's just once a week:

And for easier clean-ups on cages, toys, feeding bowls & similar items that tend to gather gunk that sticks, follow your Washing by spraying on our all natural
Cage & Toy Shield
; so next cleaning, grime just slides right off your cage.
Ingredients:
This product contains a proprietary blend of 100% non-toxic, biodegradable, naturally occurring plant extracts that smother bacteria, leaving areas naturally clean and odor free. Completely safe for all, it's harmless to use on any surface inside or around your pet habitat. Free from chemicals, carcinogens, artificial fragrances and fumes; those with allergies, chemical and / or respiratory sensitivities can use this product without worry. Simply an easier way to maintain a clean and odor controlled habitat.
For detailed information on ingredient sourcing and our human grade quality approach to formulating products, see the
Product FAQ
.
Directions: Always shake well before using.
Urine Spots:
Product can be used after others have been tried on the area; best to let previous product dry out before using this one. Remove excess urine by wiping hard surface or blotting from fabric. Wipe or pour this product on area; dry off excess after 10 minutes, OK to leave moist 
and let evaporate
.  For mattresses or other thick fabric items, pour enough product on items to soak through affected areas and just let dry.  Safe for pets or people to come in contact with cleaner as it dries.
Cage Cleaning: Dampen a dry cloth with Cage & Toy Wash and rub on surface to be cleaned, wiping off dirt and grime. Heavily soiled areas may need more than 1 application; just let the Wash sit and dissolve grime for a few minutes, then wipe again. Using a micro-fiber cloth will allow you to clean more area with less product. No need to rinse; the Wash remains as a barrier to protect against bacterial growth.
Weekly use is recommended as your primary cleaning method for animal cages, toys and accessories. Doing so will continue to prevent bacterial attachment and control odors caused by bacterial buildup.
"Pre-Treatment" for New Toys or Bowls: To prevent bacteria from getting a chance to attach to the items, use Cage & Toy Wash on brand new products before bacteria have a chance to attach to them. From then on, just follow General Directions above.
First Time Use on Dirty Items & Habitats: For cages & accessories that are visibly dirty and/or have odors, it is necessary to break up the existing bacterial attachments by thoroughly cleaning and rinsing prior to using Cage & Toy Wash. But this will be the last time you will need to clean with harsh ingredients and rinse with tons of water!  After items have dried, clean with Cage & Toy Wash and you are on your way to a new kind of clean. From then on, just follow General Directions above.
For faster clean-ups, once you have Washed then spray on our all natural
Cage & Toy Shield
so next cleaning, grime just slides right off your cage.
Storage
This product should be stored where the temperature does not exceed 80 degrees Fahrenheit for long periods of time.
---
Share this Product