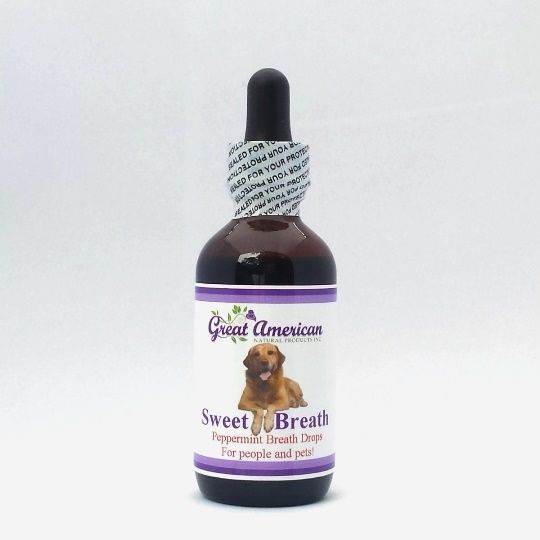 Sweet Breath Natural Odor Control Drops for Pets - and People!
Produced at a facility in compliance with USDA (human) requirements
2 fl oz, 100% natural; used 2x daily will last ~ 6 months
Peppermint essential oil provides a noticeable minty freshness right away
Chlorophyll works from the inside out to neutralize body odor over time
Safe & Effective Breath Odor Control - for Pets and their People
The typical liquid chlorophyll used in other products is often 99% water, providing very few benefits at such a diluted level. What makes Sweet Breath so effective is the superior quality of chlorophyll, which is a concentrated juice powder. While more costly to produce, its performance is worth the price. To our knowledge, this product is the only one of its kind.
It is perfect for pets & people with allergies because there are no faux masking scents. Immediately after dropping a few drops into your pet's mouth, a fresh minty breath (and perhaps some major tail wagging!) will result! Used regularly, it will freshen internally and externally.
Whether straight from the bottle, sprinkled over food or mixed with water, it can be dispensed any way you like, though most pets seem to love it "straight out of the bottle". Don't worry - there's no alcohol!
Neutralizing Pet Odors from the Inside Out
Chlorophyll is a whole food form resulting from plant photosynthesis. Considered a powerful detoxifier & nutritional immune system booster, it is safe, non-toxic and gentle with numerous health benefits. This potent ingredient neutralizes smells by
assisting digestion
. Once it has passed through the system, odors are reduced & a less pungent smell will result from urine and feces.
With vitamins A, C, E, K, folic acid, iron, calcium & protein, chlorophyll provides antioxidants, reduces inflammation & helps strengthen the immune system. Its alkaline properties balance ph levels, alleviating acidity & may assist in the prevention of fatigue & stress.
A Note on Teeth & Bad Breath in Pets
Sweet Breath temporarily reduces
bad breath
by providing a quick minty burst of freshness. However, it is important to note that pets with severe tartar buildup may still have some residual breath odor. In these situations, a professional cleaning by a vet is likely necessary to eliminate the buildup that contributes to the most stubborn, resistant and unpleasant breath.
We strongly encourage pet owners to brush the teeth of dogs (and cats) a few times weekly with a
pet-safe toothpaste
. While some experts believe feeding pets a high quality, crunchy kibble diet may assist with scraping plaque buildup that occurs over the years, this has not been scientifically proven. Another possible way to help minimize plaque buildup on teeth is to provide your fur babies tactile, non-edible bones that have a "scraping" action on the teeth. But annual vet checkups are key. Once tartar buildup has been professionally removed, it is an ideal time to start your pet on a
preventative oral disease program
. Regular at home oral care extends your pets' longevity. Use Sweet Breath daily in combination with dental care for a sweeter, longer life.
Ingredients
Peppermint Essential Oil, Chlorophyll, Vegetable Glycerin, Purified Water
For detailed information on ingredient sourcing and our human grade quality approach to formulating products, see the
Product FAQ
 under Notes.
Directions
There's no need to worry about giving your Fur Buddy too much because it is so gentle.  Depending on the size of your pet, the 2 fluid oz. bottle will last approximately 6 months when used twice daily. It works 24/7, but for the best results, continue to use daily. Despite its safety, Sweet Breath is a powerhouse at reducing odors,but there's no need to waste the product. Over time, you can decrease the dosage to once daily. Because this product contains essential oil, please double check with your veterinarian before using on cats.
General recommendations for how much to provide are based on the size of your pet:
For small dogs (Chihuahuas): 2-4 drops twice daily
Medium dogs (Beagles): 4-6 drops twice daily
Large (German Sheperds): 6-8 drops twice daily
Extra Large (Great Danes): 8-10 drops twice daily
Sweet Breath = Sweet Life (for the entire family!)
---
Share this Product